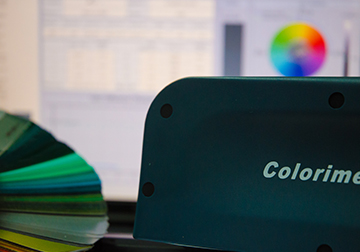 We constantly invest in technological developments in order to provide our clients with solutions that are optimal, fast and cost efficient. Also, we constantly strive to optimise our internal logistics procedures in order to increase process productivity, thus ensuring market price competitiveness and quality performance for our clients.
1.Electrostatic powder painting
If you want to give professional finishing and optimal protection to your metal parts, painting is one of the most accurate solutions!
With electrostatic coating you can give colour and protection also to parts with complex shape: choose between hundreds of covering colours the one that most accomplishes your final product or choose a transparent coloured finishing to highlight the precious metallic surface under the paint.
Bring us your project, we will develop the right colour for you and set up the best process to give shape to your idea, respecting your industrial needs.
TECHNICAL INFO: max product dimension 90 cm x 120 cm
2. INOX painting and treatment
A dedicated line treats your INOX parts before painting. You can give colour to your product while still preserving the unmistakable INOX gloss.
Our process withstands the modern adhesion tests, therefore we strongly encourage you to explore this new technology for your parts.
1.Plastic liquid painting
Painting brings value to your plastic parts. For your high level products, choose between matte or glossy solutions, with metalled water based finishing.
Our in-house design support department can develop the paint that best matches your needs. The parts we deliver are 100% checked.
For your most appreciated products we can project internally the right automation that grants stable processes and high volume to supply constant quality and flexibility on quantities.
2. Anthropomorphic robot
COMING SOON
1. Pad printing
If the a background finishing doesn't fulfil your needs, higlight your parts with pad printing graphics. You can provide us your preferred graphics, your logo or your message and we ca print it on your products.
Once our internal technical office has digitalized your graphic idea, our fast industrialised process allows large scale repeatability.
TECHNICAL INFO: max number of colors 6
2. Plasma treatment and Chromed parts
For the past years, we have invested heavily in developing a specific process for chrome parts.
Our research and development has resulted into an advanced plasma treatment process, through which we can supply pad printed chrome parts with optimal adhesion for any chromed or metallic surface.
3. Sublimation printing
Our sublimation printing process makes possible the printing of complex graphics on flat surfaces as well as 3D ones.
This technology allows almost unlimited graphic possibilities with a minimum investment.
If you want to personalize your products, this technology is also great for small batches.
Laser marking
Do you want your logo to last forever on your articles?
Laser marking is the right process! With three different laser technologies we can mark and cut metal and plastic parts.
Our solutions combine multilayer painting and laser engraving resulting in indestructible graphics available in a wide range of colours.
1. Plastic Injection
Do you want your supplier to take care of your entire production process from start to finishing phases and also reduce transport cost? We can inject the products you need finishing for. Our experience with PC, ABS, PP and PU injection allows us to support you through the entire process.
2. Assembly
Would you prefer to have your plastic or metal parts assembled immediately after the finishing process? We can project your dedicated assembly line for manual or semi automatic assembly, also using ultrasound welding.
1. Graphics Support
If you have a specific vision of how your graphics must look, we can digitalize your idea in no time, thus allowing you to see the final result before starting the actual process.
Our Graphic Support office can develop technical drawings and programs to visualise finished processes such as pad printing, laser marking or sublimating printing.
2. Colour and paint development
In our paint laboratory, developed in partnership with our main paints supplier, we can customise paint for your product. Following the first test phase, our supplier will industrialise the production of your chosen paint. This process allows you the possibility to safely use your customised paint, in the specific quantity you need.